Social Impact Agribusiness LatAm
Paisano Mission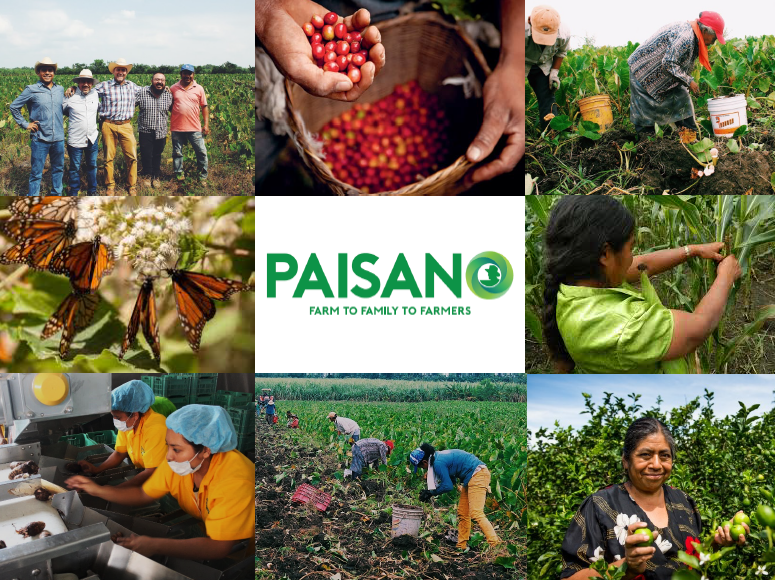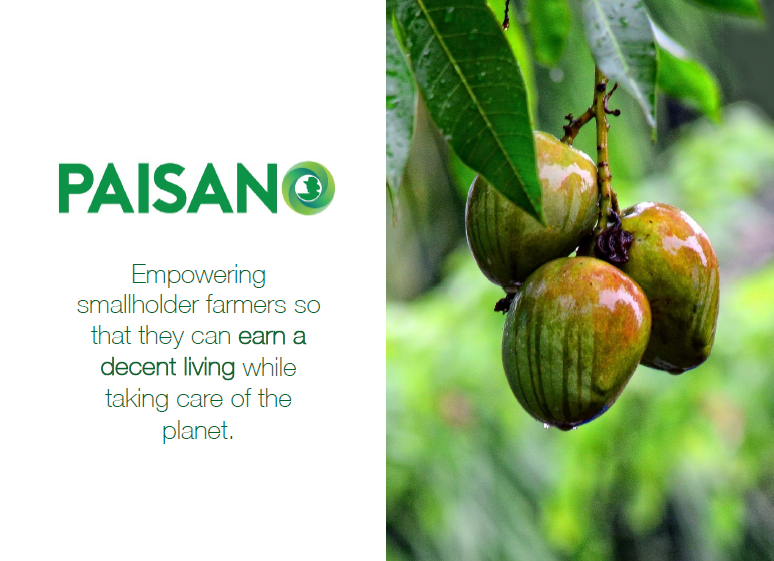 Overview of the Paisano model
Paisano was founded in 2013 by business-minded individuals who share a social and environmental vision.
At the heart of Paisano is an innovative business model designed to help smallholders prosper through collective entrepreneurship while also delivering financial returns to investors.
Paisano stands for an innovative, more equitable way of doing business. The company lifts marginalized farming families across Latin America from poverty and promotes sustainable ecological farming.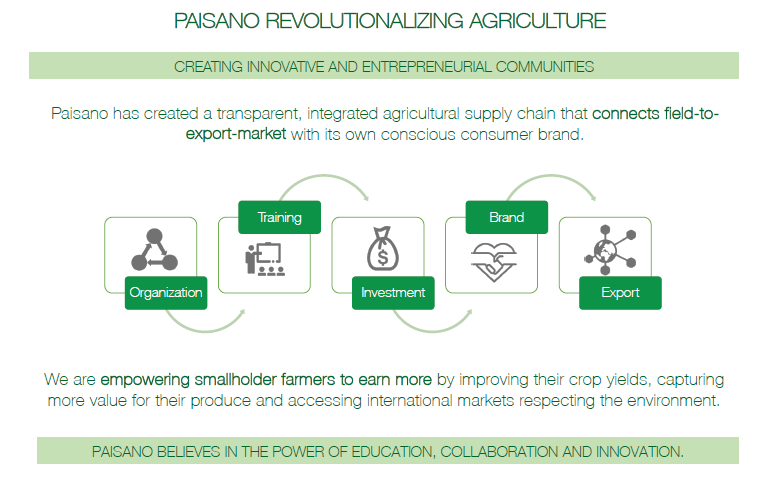 A strong culture of governance, transparency and respect for the rule of law are core to Paisano's values. An elevated standard of ethics and sustainable approach are part of the company's competitive edge.
​Why does rural Mexico need Paisano?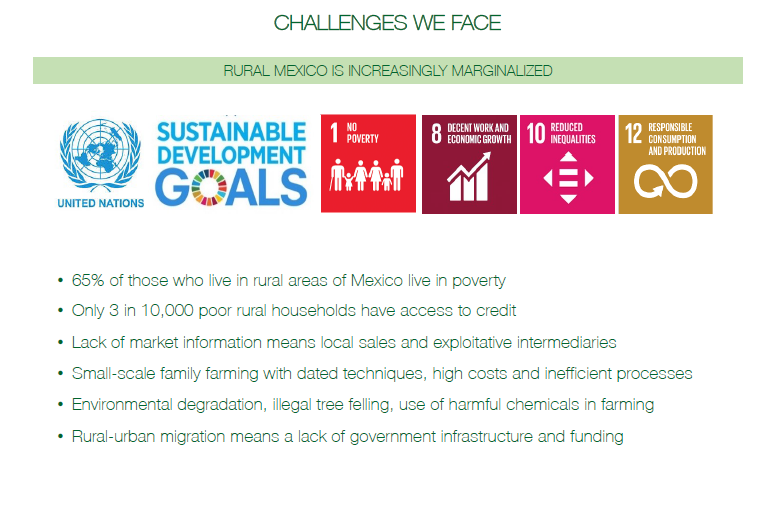 Smallholder farmers are often growing suboptimal crops, using suboptimal techniques, and losing too much of the value to intermediaries.
Paisano empowers farmers so that they can produce high yields of in-demand and sometimes organic crops sold directly to buyers abroad, at ethical food premium prices where feasible.
Paisano's Social Impact
Paisano empowers hundreds of farmers with training, organization and access to its vertically integrated agricultural supply chain.
The company brings specialist farming knowledge, sophisticated production facilities and an experienced commercial team to farmers, helping them increase yields, capture more value and sell internationally.
Collaboration is core to the business model but farmers never relinquish their independence and are treated as business partners.
In addition to supporting farmers, Paisano generates employment for hundreds of people in remote regions of Mexico. Its training programme is also extended to the local community, particularly encouraging female participation.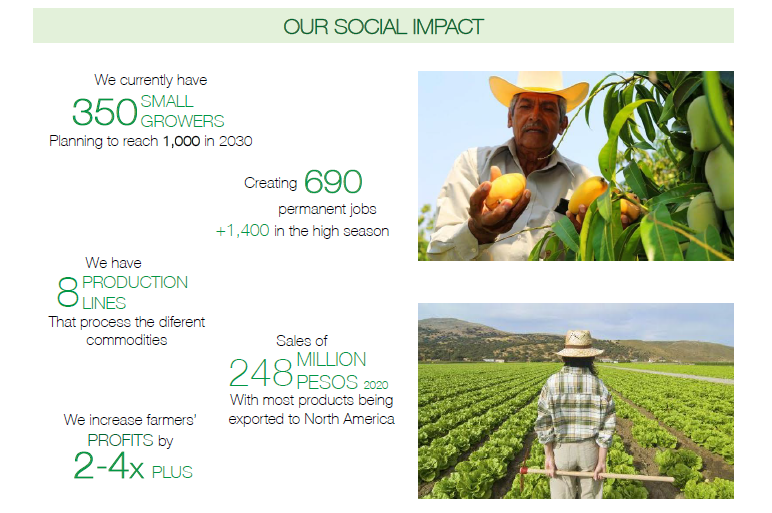 Paisano - Rural Enterprises
In each region that Paisano operates, two rural enterprises are established: an agricultural enterprise and an industrial enterprise.
The agricultural enterprise provides farmers with high-quality seeds, plants, fertilizers, pesticides and access to sophisticated machinery and technology. The business runs an extensive training program for farmers and the community, covering entrepreneurship to technical, agricultural skills.

The industrial enterprise is where the fruit is washed, sometimes processed, and packaged. This adds significant value to the produce.

Farmers that sign up to the model, sell their produce to the Paisano Industrial Enterprise. Paisano pays them the best available market price for what they grow. Farmers gain more from year one as they are producing improved quality yields at greater volume. The company also helps farmers gain certifications such as 'organic'.
Commercial Brand
Paisano´s head office is in Mexico City and from here the company manages the export of its fruit. Farmers produce is pooled and the commercial team seek international buyers.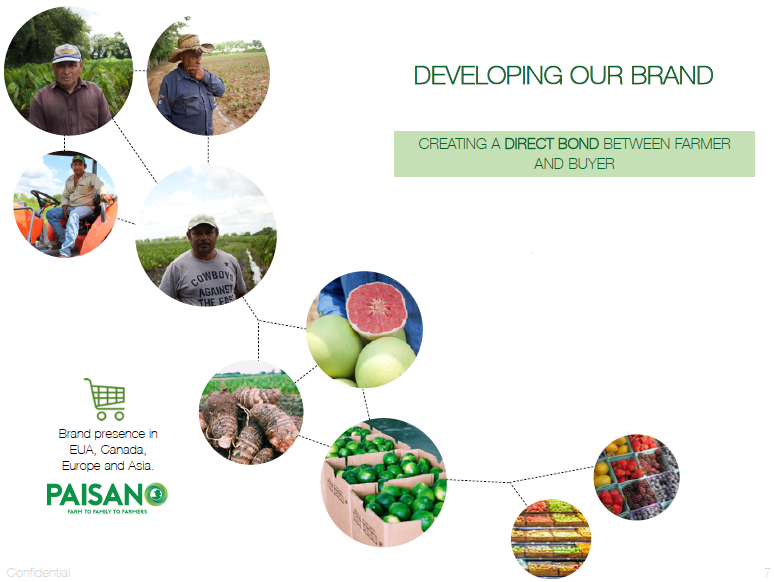 Paisano´s integrated supply chain cuts out any exploitative middlemen.
Farmers gain more income and can afford an improved quality of life while buyers gain a reliable, supplier of high-quality fruit.
Fundraising Goals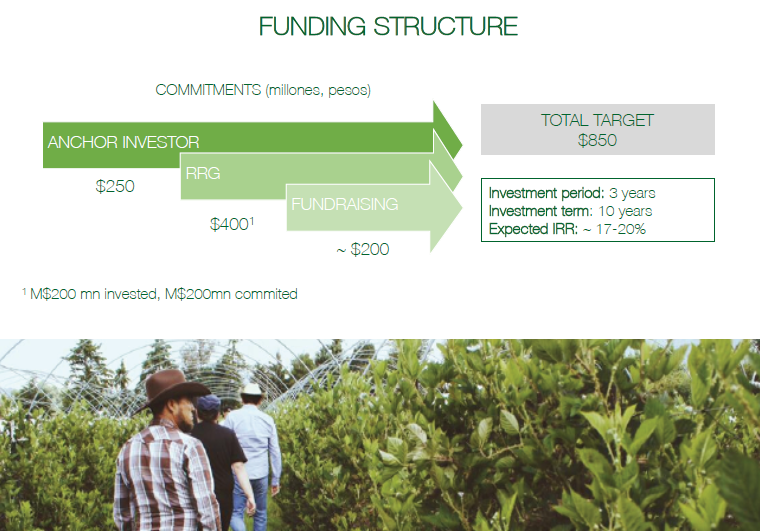 Geographic Scope
Currently, Paisano has operations in three regions of Mexico.
The company´s business model was carefully designed to be able to scale and expand to more regions of Mexico and internationally as it brings on new investment. As the business grows it unlocks further operational efficiencies and economies of scale.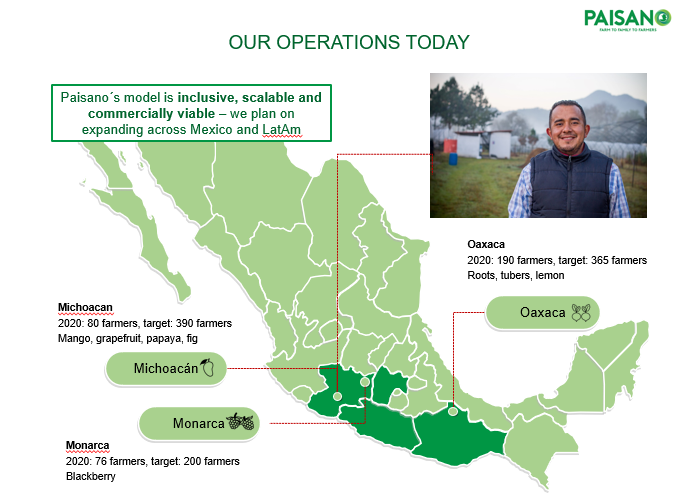 Paisano - summary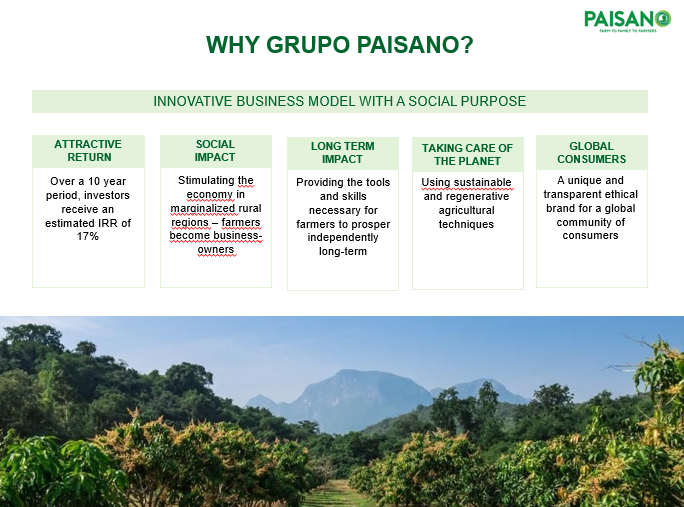 Scalable Social Impact Agribusiness